Basic Information
Edit
Unlocks after complete the Scary Night map for the first time. PvP (Player vs Player) lets you battle against other player's army to earn gold and increase pvp points for weekly and monthly ratings reward.
PvP battle costs 1 rage. Every win will +1 to your streak, and every 3rd win will earn you some other rewards according to your current win streak. Streak will reset upon lost. A very easy way to get high streaks is by challenging weak enemies in Tournaments, as these duels count for PvP streaks.
You can move your creatures as you do it in PvE. The only difference is that you only have 3 items (Health Potion, Blade Of Honor and Iron Shield). Attacked player cannot see the battle and cannot control its army. His creatures acts as creatures in PvE and collected sets doesn't apply to his army.
Time to time attack power increases (notification on top of the screen, x2, x3 multiplyer) and applies to all creatures for both players.
Types of PvP
Edit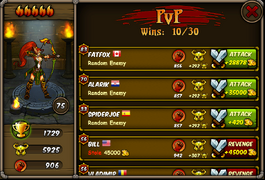 You get 3 random opponents which AP (army power) depends of their win streak. If you do not want to fight with the given opponents you can reshuffle to new ones by doing any other PvP (Guild vs Guild PvP, Tournament).
Under the 3 given opponents to fight there are 10 opponents with "Revenge" button next to it and some gold. These are opponents who successfully fought with your army and won the battle. As a reward they got your gold. You can revenge and attack any of them and try to get your gold back. Keep in mind that if you click "Revenge" then this opponent will be substituted to another (doesn't matter you win or you lose this fight) and you won't be able to attack him again.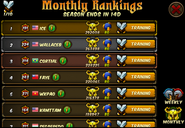 Time to time when you click on any stage on map a pop-up appears with offer to start a fight. You get same 3 opponents as in "Battle" type PvP. There won't be displayed an amount of gold for winning with this opponent, but you can inspect their army to see which one of them is preferable to fight with. You can refuse the offer — no penalty for this.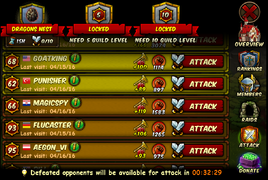 Training and Special tournament training
In the rankings list (weekly or monthly) you can train with TOP10 players and your friends (In the special screen for "Special tournament training"). Most of them will have "Defeated" sign which means you can't with this opponent.
You can attack any guild member to earn some GvG points for your guild. These battles do not count as a PvP (win streak not increases or decreases). But if you lose the fight then you also lose GvG points of your guild (these points go to the opponent who win the fight).
| | | | | | |
| --- | --- | --- | --- | --- | --- |
| Win streak | | Reward | | | |
| 3 | 1 | 100 | 3000 | | |
| 6 | 1 | 175 | 5000 | | |
| 9 | 1 | 250 | 1 | 7500 | |
| 12 | 1 | 350 | 10000 | | |
| 15 | 1 | 450 | 1 | 15000 | |
| 18 | 2 | 550 | 1 | 25000 | 2 |
| 21 | 1 | 600 | 2 | 40000 | |
| 24 | 650 | 1 | 2 | 70000 | |
| 27 | 3 | 750 | 1 | 100000 | 3 |
| 30 | 1 | 850 | 3 | 150000 | |
[[es:PvP]