Raid are special locations which can be completed only by guild members.

Black Market
Edit
Black Market is your guild shop where you can buy items such as crystals or "support" items (soul cameras, meat, chili and rage potions). Every purchases will be delivered to every guild member. Guild leader and officers can make purchases using gems from guild bank, other members only from their own.
Rainbow's Lair
Edit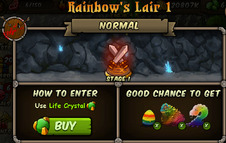 Special raid that costs 2 Life Crystals. The battle goes with several towers and three random grade X evo-materials (usually 2 of them are rainbow)
Basic Raids
Edit
Every basic raid costs 1 Void Crystal (which are automatically supplied to all guild members by 1+ void crystals/day).Most of Raid stages drops only small amount of gold and exp for creatures. Each run increases counter and after hitting the target ,each guild member receives its raid reward.Counter resets once per week at 00:00 UTC/GMT +3.
Elder's Shrine
Edit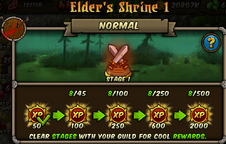 Reward is experience that you can use at any time (it won't reset, disappear, remove from your Rewards screen)
5 runs — 50 XP
45 runs — 100 XP
100 runs — 250 XP
250 runs — 600 XP
500 runs — 2000 XP
Also this raid characterized by high amount of XP that receive every creature in your army (~200 000 XP)
Legend Mine
Edit
5 runs — 100 000 gold
60 runs — 10 000 stone
120 runs — 15 000 glory
250 runs — 30 000 wood
750 runs — 50 gems
Ancient Gardens
Edit
Rewards are fruits
5 runs — 1 Lord Legendarie
60 runs — 2 Lord Legendarie
150 runs — 3 Lord Legendarie
400 runs — 10 Princess Mythica
1000 runs — 30 Princess Mythica
Forsaken Shelter
Edit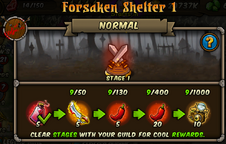 5 runs — 5 Health Potions
50 runs — 5 Blade Of Honor
130 runs — 5 Chili
400 runs — 20 Chili
1000 runs — 10 Soulcamera
Mysterious Wanderers
Edit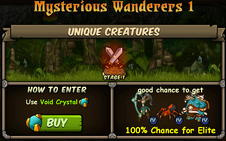 Special raid that costs 10 contribution. Rewards are different hybrid creatures that will be changed weekly (generally Thursdays).
Dragons Sanctuary
Edit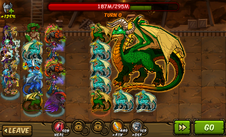 Dragon's Sanctuary – big raid dungeon where whole guild will fight against different powerful Bosses and will get an ample rewards and Contribution for victories depending on damage that each member has dealt.
There are 9 bosses
Each Boss has different multiple skills
Community content is available under
CC-BY-SA
unless otherwise noted.